Acquarello is the latest addition to our colour and theme trends book families .
The Acquarello book includes 1 dvd and contains 88 all over prints and placed prints, in 74 pages.
Subjects are:
- stripes
- animal prints
- garden flowers (roses, poppies ,pancies, etc)
- exotic flowers (orchids, oriental flowers, etc)
- provence flowers (lavanda etc)
- abstract flowers
- small flowers
- leaves
- ethnic borders (paisley,geometries ,foulards etc)
DVD Formats: JPG or multi-level PSD (Adobe Photoshop).

Our distributor: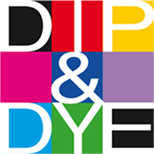 dip &dye